About Chuck's Wowsurf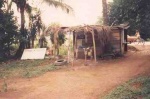 Wowsurf is the oldest and largest surfshop in Costa Rica!
Chuck Herwig (Founder & Owner) came to Costa Rica more than 20 years ago. He started with a small ding repair shop which then slowly but steadily grew into the largest surf shop in Costa Rica which now sells hundreds of surfboards and surf gear from the top quality surf brands. We are recognized globally and keep growing every year. Today we are also the biggest distributor of surfboards in Costa Rica as Pure Surf Distribution.
Why Wowsurf is the best and better than the rest:
In operation since 1988.
20+ years surfing and ecological experience in Costa Rica and Central America.
Multilingual surf shop.
A drug free operation.
---